Iways Projects
Infrared Inspection System (IRIS)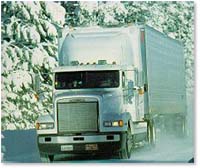 Using infrared technology, the Alaska State Commercial Vehicle Enforcement inspectors are able to accurately identify malfunctioning brakes within 10-seconds. On February 20, 2002 Alaska DOT MSCVE received the Infrared Inspection System Van from Infra Red Inspection System (I.R.I.S.) LTD.
Working brakes generate friction and heat that glow white on the system's monitor, whereas a dark image indicates a brake is cold and in need of repair or adjustment. Inoperable or out-of-adjustment brakes make up 20 percent of commercial vehicle violations, however they are ADOT&PF's No. 1 safety concern. Of 6,265 commercial vehicle inspections last year, 1,403 violations were written for faulty brakes.
The van is deployed statewide including Southeast Alaska where tour buses host thousands of tourists each summer. The ability to traverse the largest state's geographic area is significant, as it is only possible to deploy technology and personnel at strategic locations. Alaska has trained 12-inspectors to screen vehicles and indications of brake failure would result in a closer look or level 1 inspection. The IRIS van is an advanced Commercial Vehicle Operation solution that helps inspectors quickly identify and influence high-risk carriers and drivers to perform crucial vehicle maintenance including over-inflated tires, bad wheel bearings, gears, exhaust leaks, etc.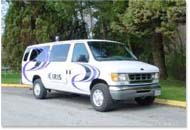 Safety is also important to carriers and truck drivers. Frank Dillon, Former Executive Vice President of the Alaska Trucking Association, Inc. said truckers support the use of the new equipment. "We're 100 percent behind it," Dillon said. With enforcement officials and commercial vehicle owner/operators working together, Alaska is sure to reduce the number of safety violators.
Deployment:
ADOT&PF, Measurement Standards & Commercial Vehicle Enforcement deployed the IRIS van in February 2002. The van is operational statewide.
Contact
Rex Young
ADOT&PF, MS/CVE


(907) 365-1207


rex.young@alaska.gov
Page last updated: 2/22/2012
Questions about the Iways program or website?
Lisa Idell-Sassi


dot.iways@alaska.gov


907-465-8952