FOR IMMEDIATE RELEASE: October 8, 2012
No.: 12-2598
Ted Stevens Anchorage International Airport Announces New Lake Hood Manager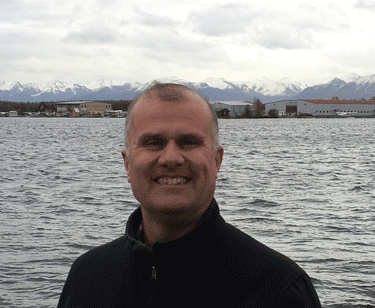 (ANCHORAGE, Alaska) – Ted Stevens Anchorage International Airport (ANC) announces that Tim Coons has been hired as the Lake Hood Manager. He will begin working in his new position October 16, 2012.
Tim Coons retired from the United States Air Force in 2011, following a career that included flying the F-4/RF-4 Phantom and the F-15E Strike Eagle at various posts throughout the world. Stationed at Elmendorf Air Force Base in 1996, he and his family were enamored with the state. Alaska's beauty, heritage, and spirit of adventure called them back when he concluded active duty and retired from military service.
Tim Coons began working at ANC in Airport Operations last fall, and is eager to begin his new position as Lake Hood Manager. Love of aviation, the land, and the people of Alaska make him a great fit for the position.
"Aviation is right at the very heart of Alaska," said Mr. Coons. "I count myself lucky to be allowed to play a role and look forward to learning more about the Lake Hood community and contributing to the best place in the world."
The Lake Hood Manager provides managerial support and staff supervision to ensure the day-to-day airfield operations' safety and airport compliance with statutes and applicable federal regulations; meets with pilot associations and other groups to resolve issues related to airport operation; acts as a liaison with Federal Aviation Administration (FAA) and other entities for all General Aviation needs; conducts physical checks of the Z41 air strip and Lake Hood Seaplane base to ensure all areas of security and safety are in order; and acts as a senior representative for airport management during absence of higher authorities.
"This is a critical position," said John Parrott, ANC Airport Manager. "With 500 floatplane slips and 500 wheeled airplane tie downs, Lake Hood is a busy airport in its own right. Tim Coons is the right person for this position, interfacing with avid aviators, overseeing operations and conducting crucial safety and security elements."

The Alaska International Airport System (AIAS) - comprised of Ted Stevens Anchorage and Fairbanks International Airports - is home to over 30 international and domestic airlines providing passenger and cargo service throughout Alaska, the United States, Europe, and Asia. AIAS is an extraordinary economic engine; serving nearly 6 million passengers per year and accounting for 1 in 10 jobs in Anchorage and 1 in 20 jobs in Fairbanks. The purpose of AIAS is "To Keep Alaska Flying and Thriving."
The Alaska Department of Transportation and Public Facilities oversees 255 airports, 11 ferries serving 35 communities, 5,619 miles of highway and 720 public facilities throughout the state of Alaska. The mission of the department is to "Get Alaska Moving through service and infrastructure."
# # #