FOR IMMEDIATE RELEASE: October 1, 2012
No.: 12-2593
DOT&PF Opens Alakanuk Airport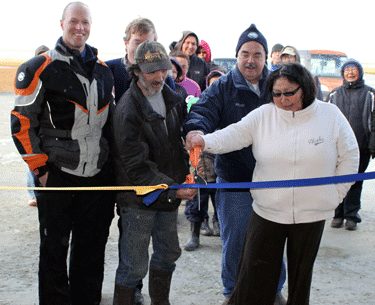 (ALAKANUK, Alaska) The Alakanuk Airport, providing service to residents and seasonal workers, officially opened Friday, Sept. 28, with a ribbon cutting ceremony. The Department of Transportation and Public Facilities (DOT&PF) completed the project with funding from the Federal Aviation Administration.
The newly constructed and relocated Alakanuk Airport boasts a number of economic benefits for the community of about 680 at the mouth of the Yukon River. Larger aircraft can land on the 4,000-foot runway bringing fuel and freight deliveries, and will facilitate faster transportation of fish product from the Yup'ik Eskimo village to market.
The reconstruction, which included demolishing the old airport and building the new airport, runway and snow removal equipment building, was a high priority for DOT&PF. The project improved the safety of airport maintenance and operations.
DOT&PF contracted with PDC Engineering, Inc. for design and Bering Pacific Contractors, Knik Construction and Ridge Contracting for construction. Work on the $33 million project began in 2002 and was completed in September 2012, with the new runway opening Sept. 17.
Photos of the new Alakanuk Airport and the ribbon cutting ceremony are available on the DOT&PF Flickr stream at http://www.flickr.com/photos/akdotpf/.
The Alaska Department of Transportation and Public Facilities oversees 255 airports, 11 ferries serving 35 communities, 5,619 miles of highway and 720 public facilities throughout the state of Alaska. The mission of the department is to "Get Alaska Moving through service and infrastructure."
# # #