Posting Political Campaign Signs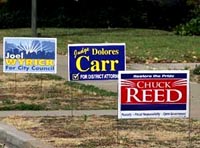 Another political campaign season is approaching and there is frequently a proliferation of political message signs being placed in or near State highway rights-of-way. These are sections of State roadway where political campaign signs are prohibited. Each election cycle, signs that find their way into State rights-of-way must be removed as mandated by State and federal law.
In many instances, candidates and their volunteers simply do not realize where rights-of-way are located. In other situations, sign placement or clusters of signs near busy roadways or intersections are considered traffic hazards because they diminish a driver's sight distance.
Knowing that campaign advertising is highly important, and expensive, the Alaska Department of Transportation and Public Facilities (DOT&PF) would like to provide you with these sign posting guidelines.
Explained below are two sections of Alaska Statute pertaining to sign posting/advertising in rights-of-way:
Campaign signs placed within the State's road and highway rights-of-way are deemed unauthorized encroachments under AS 19.25.200 – 19.25.250 and will be removed by DOT&PF crews without notification. Vehicles parked in rights-of-way that are used to display political advertisements are also prohibited and subject to removal. Political campaign signs are considered outdoor advertising.
AS 19.25.105(a) states, "Outdoor advertising may not be erected or maintained within 660 feet of the nearest edge of the right-of-way…" This section deals with advertising outside the corridor, but also addresses advertising that maybe placed within the corridor on bus benches or trash receptacles. If the sign is on private property, DOT&PF must provide a 30-day written notice of removal to the sign owner and property owner.
A list of State roads and highways in your region that are affected by rights of way laws are available online at:

The following link will take you to information about the State's rights-of-way: DOT&PF Rights of Way
DOT&PF staff will make every effort to work with you. If you would like more information about the width of the road rights-of-way in a given area or information about a specific road, please contact our Anchorage/Fairbanks/Juneau Right of Way office at:
Anchorage 269-0700
Fairbanks 451 5400
Juneau 465-2838